Posted by at 9:30 PM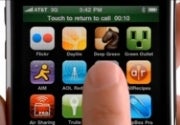 In a battle between AT&T and Verizon Wireless that never seems to end, AT&T's partner Apple now appears to be getting into the mix with two retaliatory iPhone TV ad that air Monday night. The ads comes hot on the heels of AT&T's TV ad campaign that aimed to "set the record straight" around Verizon's "there's a map for that" campaign.
The two Apple ads (see below) show the iPhone's ability to browse the Web and manage phone calls simultaneously, a feat that's possible over AT&T's UMTS/GSM wireless network but not over Verizon's CDMA network, according to an account in Apple Insider.
Via PCW