Posted by at 2:39 AM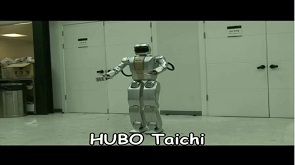 Not bad for a robot, it even knows Tai Chi as shown in this video.
As if setting off the inaugural fireworks for the 90th Korean National Games wasn't enough, in this video, the latest model of KAIST's humanoid robot HUBO is shown walking, performing Taichi, fiddling his fingers, and (gulp) brandishing a plastic sword.
Afterward, he grasps a bottle of cool H20 to cool off before taking to the tread mill for a brisk jog at 3kmph. Not as fast as ASIMO or PETMAN's walking speed, but the fastest I've seen KAIST's robots run. And boy is he shiny, just look at those hands.
I know plenty of prominent scientists, such as Dean Kamen, have said they don't believe that science fiction-style robots will ever walk among us, but I don't know if he's seen HUBO. I certainly wouldn't wager my scientific reputation on what future robots will or won't be able to do.
Via
Plasticpals