Posted by at 7:32 PM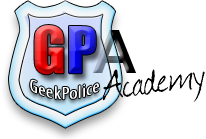 Spyware, viruses, trojans, adware, and all other bad stuff, otherwise known as
malware
. You hate it, I hate it. Which is why a free online malware removal school known as GeekPolice Academy was set up. It aims to teach students on how to use advanced techniques and tools to remove malware without any assistance. The best part is,
sign up is free
!
Malware removal today, is a challenge, and is no longer in the era where you could simply run anti-spyware and antivirus tools to get rid of the infection. Upon graduation at GeekPolice Academy, you will be able to remove spyware, trojans, rootkits, worms, and almost any malware infection without assistance.
If you like to help people, you will definitely be interested to join. There will be teachers to guide you and answer questions during the training, but training at GeekPolice Academy is mostly self-directed and self-motivated learning.
The training is steady, but it does take an estimated six to nine months to complete. It can be hard from time to time, but those who are willing to research and put good time in will feel rewarded and get the training done.
---
A quick outline of the training:
Level 1
: Basics of malware removal. Learning how to read HijackThis logs.
(2 months)
Level 2
: Learn how to use malware diagnosis and removal tools. Read online scanners, offline scanners, system information tools, diagnostic tools, and how to read a file stack or stack-trace.
(3 months)
Level 3
: Advanced malware removal tools training. E.g. ComboFix, Win32kDiag, The Avenger, GMER and Stealth MBR Rootkit detector, Registry.
(2 months)
Level 4
: Final exams. Must be completed by one month from start date. Help 10 live users under guidance of expert.
(1 month)
---
If you are interested, you can sign up at the enrollment form page
here
.
Via GP, GPA