Posted by at 7:12 AM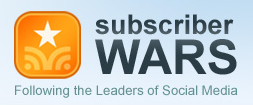 A website known as
Subscriber Wars
lets you find out top, most famous, most followed people on social media networks Twitter, YouTube and Facebook. The list of social media leaders is shown below. The list can be seen below:
The website also shows you the latest tweets of leading social media users and the latest video posted.
As shown in the picture below, the social media leaders as of now are Michael Jackson, Barack Obama, Ashton Kutcher, Vin Disel and Britney Spears respectively.